Sorry this promotion is expired, BUT we have more for you ! Redirect to Promotion Page in 5 seconds.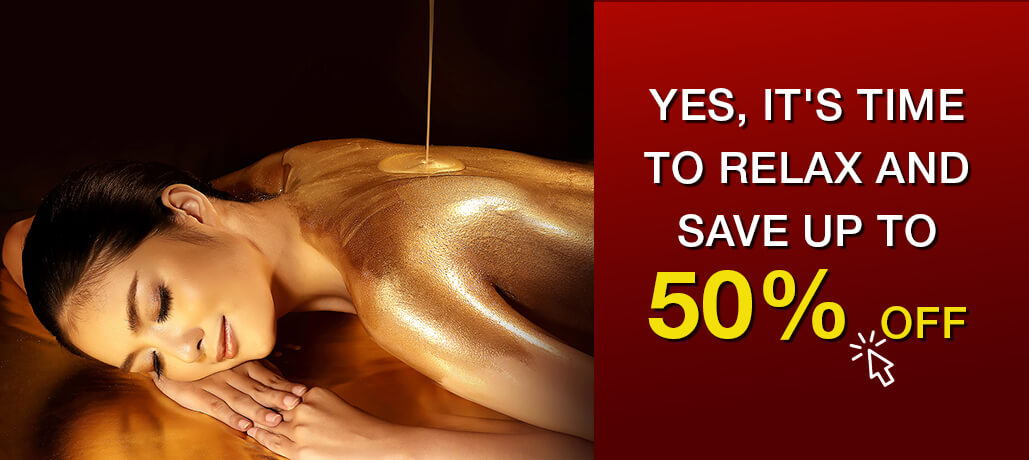 Book Online and enjoy 50% off Selected Packages!!!
Finally, it's time to rest, relax and enjoy being pampered. Treat yourself a spa day at Oasis Spa, one of the best day spas in Thailand. We ensure you the cleanliness and safety measures are being place for your health and wellbeing. All you have to do is make time for yourself and book your favorite spa treatment online in just a few click away...
Spa Program 90 Minutes
The Voyage of Golden Lanna Massage (6,944.30 ⇒ 3,472.15 THB): An amazing musical masterpiece was developed exclusively to enhance each phase of the Four Hands Massage experience. Two therapists cover you with fragrant oil infused with gold flakes
Spa Program 120 Minutes
King of Oasis Signature Massage (4,950.30 ⇒ 2,295.15 THB): It begins with a Thai Herbal Hot Compress placed along the strong muscle lines. Then a Hot Oil Massage stretches the muscles to reopen the body's energy pathways, increase energy levels and promote overall health.

Queen of Oasis Signature Massage (4,590.30) ⇒ 2,295.15 THB): Swedish and Aromatherapy massages further restore and enhance vitality and the heat of the Hot Stone therapy relaxes deep muscle layers for realignment of life-energy.

Sabai Stone Massage (5,767.30 ⇒ 2,883.65 THB): The heated Sabai Stones are positioned at strategic locations on the body to melt away muscle knots and tension and to relieve stress. Additional stones are applied to massage away pain and improve the flow of life energy.

Spa Program 150 Minutes
Siamese Therapeutic Wisdom (5,414.20 ⇒ 2,707.10 THB): This uses deep stretching, rubbing, and kneading to stimulate acupressure points. Thai herbal massage balm and Thai Herbal Hot Compresses are applied during the treatment to enhance its effectiveness. You can expect improved circulation and stress relief.

Touch of Nature Package (6,944.30 ⇒ 3,472.15 THB): Revitalize from head-to-toe with organic treatments! First, an Organic Coconut Body Scrub creates more youthful looking skin. Then a Coconut Oil Body Massage soothes the mind and body. Next, a Facial Massage using organic oils makes you feel younger. Finally, a Personalized Body Massage relaxes and de-stresses you.

Hair Spa Package (4,472.60 ⇒ 2,236.30 THB): This treatment protects and enriches hair and takes it to new levels of health and beauty. Deeply moisturizes and restores hair to a more youthful splendor. Next, enjoy with Body Scrub followed by the magic of an Aromatherapy Hot Oil Massage.

Spa Program 180 Minutes
Golden Sensation Package (7,650.50 ⇒ 3,825.25 THB): The Golden Sensation treatment will elevate your sense of well-being. The scrub uses Thai Golden Silk Cocoons, fine sugar and Sal Butter to exfoliate your skin. Thai massage both relaxes and energizes and is followed by an aromatherapy gold oil massage. A head, back and shoulder massage melts away any lingering tension and finally deep stretching improves flexibility.
It's EASY, simple choose your preferred date, time, choose the location, choose any spa package you desired and you get up to 50% OFF!! The booking is confirmed in real time, and you are good to go…This online booking promotion is available at every Oasis Spa location in Bangkok, Chiang Mai, Phuket and Pattaya!!
Don't wait, book now, offer is good through 31 March 2022 ONLY! For more information call: +6622622122.