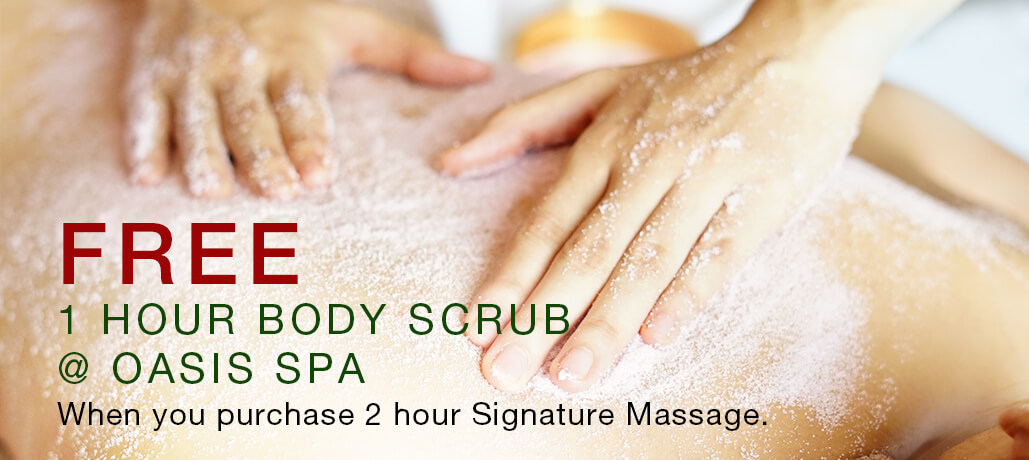 Book your Signature Massage Today & get a Free Scrub of your choice.
3 hours of Relaxation, lose the stress, feel better, be energized
& become the best version of YOU.

Replace the old you with a new and better version by nourishing & repairing the skin to look and feel better. Encourage your natural cell rejuvination by cleansing off the old
to allow for fresh and luminous skin.

Select one of our best 2-hour Signature Massages.
​1. The Voyage of Golden Lanna 1.5 hrs. 5,900++ THB​
2. King of Oasis 2 hrs. 3,900++ THB
3. Queen of Oasis 2 hrs. 3,900++ THB
4. Siamese Therapeutic Wisdom 2.5 hrs. 4,600++ THB
To receive the FREE 1-hr Scrub Treatment of your choice valued 1,765.50 THB
Coconut Butter Body Scrub
Secret Charms Rich Body Scrub
KIN Ocean Breeze (Aloe Vera) Body Scrub
Himalaya Salt Body Scrub
Brown Sugar Body Scrub
The FREE body scrub of your choices offered is available at any Oasis Spa location.
Valid until 31 December 2023
For more information, please contact us via LINE@oasisspa